Get expert advice and coaching from a credentialed professional who "knows about food and what it can do."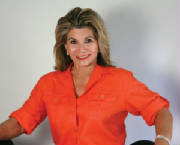 Susan Peacock is a Registered Dietitian based business that has been providing nutrition solutions for people for more than 20 years.
Education:
Indiana State University, Terre Haute, Indiana.
Registered Dietitian, Certification, 1998
Master of Science Degree in Dietetics, 1998
Florida State University, Tallahassee, Florida
Bachelor of Science Degree in Nutrition, 1979
_____________________
Licensed Dietitian/ Nutritionist in the state of Florida #ND3521
Member of American Dietetic Association #864201
Member American Association of Diabetes Educators
Experience
2001- Present:
Private practice consultant SUSGEN Health Network Inc.
Providing individual patient counseling and education specializing in Diabetes, Weight Loss Renal Issues, Hyperlipidemia, Hypertension as well as other disease states.
Nutrition lectures and Grocery Market Tours
Full service Consultant Dietitian Long Term Care. Providing numerous Long Term Care, Assisted living, and Rehabilitation Centers .
Lecturer for nutrition component for CORE program; Assisted Living Training.
Certified Insulin Pump Educator
Sandy Pines Children's Rehab: Nutrition Consultant for Diabetics, and adolescence with eating disorders.
Head Start Dietary Consultant, providing chart and, menus, review, along with kitchen sanitation, individual parental counseling and lectures.
2003-'05
Diabetes Educator: Palm Beach Diabetes & Endocrine Specialists:Class lectures, individual counseling.
Lecturer for yearly Multiple Sclerosis Conference in Miami. Providing nutrition information for those with Multiple Sclerosis. 2005-'06
2007- '08
Created and owned an Accredited Diabetes Education Company
2002-2004
JFK Medical Center, clinical dietitian manager. Involved in all aspects of clinical Nutrition, including nutrition support, weight loss, and in patient Diabetes Education.
Created lectures for Diabetes Education, and Cardiac Rehabilitation.
Created lecture and, information packet for monthly Congestive Heart Failure lecture.
Lectured for American Lung Association on, "Good Nutrition for Those with Lung Disease"